One doesn't just get bestowed with a Padma Shri and National Award for nothing. Vidya Balan, unquestionably, is one of the most talented and versatile actresses we have in Bollywood today. Breaking out with a stunning performance in Parineeta in 2005, Vidya has only got exceptionally better with each act of hers. Even if her films have not fared well, the beauteous actress has always walked away with praises for her acting chops.
As Vidya celebrates her 40th birthday today, we decided to chalk down some of her most standout performances. So, without further ado, here are 7 fantastic onscreen portrayals of 'The Vidya Balan' that bowled us over completely…
1. Parineeta
Vidya burst into the Bollywood scene with Pradeep Sarkar's refreshing Parineeta and stole everyone's heart not just with her ravishing beauty but also with her subtle and natural acting. She depicted the various shades of her character Lolita – be it the coyness, demure, resilience or innocence – with dexterity; emoting so beautifully through her eyes, that one simply couldn't stop falling in love with her skills and beauty.
In the film, she effectively evolves from a lively young girl to a married woman, who wants her husband to claim her; walking the tightrope between self-respect and pride – Vidya was simply phenomenal. She even whisked away all the best debutant awards that year and Lolita till date remains to be one of her most memorable characters to have graced the Bollywood screen.
2. Paa
It is difficult to hold your fort and stand strong when most of your scenes are with the legendary megastar Amitabh Bachchan. However, Vidya not only stood out but also left an impression on all with her powerful representation of a strong, independent, modern single mother in Paa. In fact, some of the reviewers even said on record that her performance was so strong that the movie's name should have been 'Maa' instead of 'Paa'. Her portrayal of a compassionate and tough mother, dealing with her son (played by Mr.Bachchan) 's rare genetic disorder is natural, graceful and compelling throughout. She was exceptionally brilliant in the film.
3. Ishqiya
After her dazzling act in Paa, Vidya returned to the screen as the shrewd and manipulative – Krishna in the dark comedy Ishqiya and bowled us over with her femme fatale charm. Vidya stood out in every scene as the cunning and vindictive Krishna, who seductively plays with two men a game of lust, lure, deceit, treachery and suspense, to achieve her secret goal. Krishna is a layered character – vulnerable, helpless, tough, menacing, romantic, wild and flirtatious – and Vidya has managed to express all these various emotions of her character with aplomb, often without using dialogues. Her explosive performance is undoubtedly the hallmark of this film.
4. The Dirty Picture
It won't be wrong to say that Vidya's career skyrocketed after her bold move to play Silk in the biographical drama The Dirty Picture, which was inspired by the life of South Indian actress Silk Smitha. Vidya ferociously owned the voluptuous and brazen Silk and delivered a brave performance. Her performance left the audience and fans overwhelmed with the way Vidya portrayed Silk on screen. They went up to Vidya stating that the actress awarded Silk with a lot of respect and that it is hard to imagine any other actress capturing the conflicting life of Silk Smitha as well as Vidya did. The part earned her the prestigious National Award and remains to be still the most towering achievement in her filmography.
5. Kahaani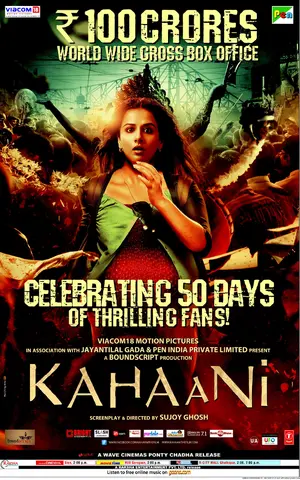 Vidya followed up the feisty performance in The Dirty Picture with another power-packed performance, this time around as a very pregnant woman from London wandering the streets of Kolkata, desperately searching for her missing husband. Vidya is captivating and convincing as she yet again effortlessly tailored various sentiments such as vulnerability, anger, determination, and despair within her character. Balan's Bagchi in Kahaani is another memorable character that you will never forget. Kudos to Vidya, she is truly gifted.
6. Bhool Bhulaiya
One of the best thriller suspense, Vidya stole the show with her stellar performance. Right from her classical dance to her fierce acting, her role as Monjolika is still carved as one of the best performances of Vidya. Monjolika remains in our hearts till date, courtesy Vidya's dedicated performance. The film was also commercially successful.
7. Tumhari Sulu
One of the biggest strengths of the film is its performance. Vidya Balan completely knocks you out as Sulochana – a housewife and a mother of a young boy, who becomes an RJ for a naughty show to random men at night. Sulu is wonderfully textured. She is brave, isn't afraid of speaking her mind, is unapologetic, and most importantly isn't afraid to play bold and live her dream of finally being a working woman, irrespective of what people around her have to say and Vidya totally owns this multi-layered character and delivers a remarkable performance.
Well, that's what she does, deliver one noteworthy performance after the other with her undeniable natural charisma that's so easy on the eyes. She has played different kind of roles, while some worked, some couldn't, but her talent was always recognised and appreciated.
More power to you lady and here's wishing you a very Happy Birthday.