Amitabh Bachchan is set to share screen space with Aamir Khan for the first time in Thugs of Hindostan. Big B has already given some memorable films with the other Khans – Shah Rukh, Salman and Saif.
Working with Amitabh Bachchan is on every actor's bucket list. And while many have been lucky to share screen space with the Shehenshah of Bollywood, several others are still waiting for the opportunity. However, you really need to be someone like Aamir Khan to look for the right film in order to work with Big B. Interestingly, Bachchan and Aamir have collaborated for a film before – Lagaan. Big B gave the voice-over for the film but did not share screen space with Aamir in Lagaan.
Now that the two mega performers are set to star together in Thug of Hindostan, expectations are soaring. The Vijay Krishna Acharya directorial also stars Katrina Kaif, Fatima Sana Sheikh, Lloyd Owen and Mohammed Zeeshan Ayyub. Needless to say, the film's high point is the face-off between Bachchan and Aamir.
But before we get to see that, we take a look at Bachchan's films with the other Khans – Shah Rukh, Salman and Saif.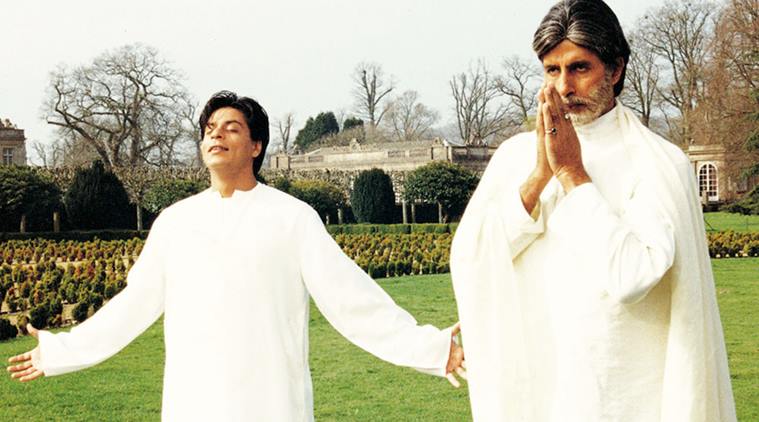 Mohabbatein
Bachchan has worked the most with SRK, among all the Khans. To say that he even kicked off his second innings in Bollywood with a Shah Rukh film won't be wrong. Their first film together was Mohabbatein in 2000. While Bachchan's Narayan Shankar resurrected his looming acting career, it also gave SRK, one of his most memorable characters, Raj Aryan Malhotra. Mohabbatein also became the highest grosser that year and got the two actors a Filmfare award each for their roles.
Kabhi Khushi Kabhie Gham
After Yash Raj Films, it was the turn of Karan Johar's Dharma Productions to bring back these two superstars together in Kabhi Khushi Kabhie Gham in 2001. K3G is also, to date, referred to as the biggest ensemble Bollywood has ever seen, and these two actors played the central characters of father and son. The KJo directorial emerged as a major commercial success, both domestically and internationally.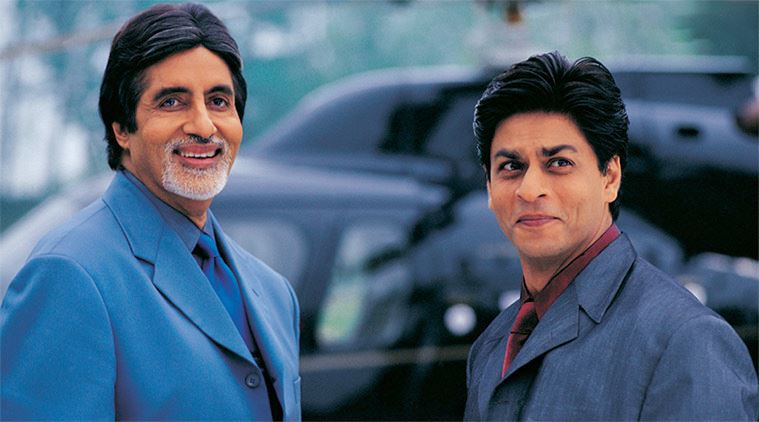 Veer-Zaara
YRF got these two actors back on the sets in 2004, for Yash Chopra's musical blockbuster Veer-Zaara. Though Bachchan had a cameo appearance, where he played the father, the duo's song "Lodi" became one of the highlights of the film. It was also a Diwali release and hence managed to rake in moolah at the box office too.
Kabhi Alvida Na Kehna
Though Bachchan played the onscreen father to his real-life son Abhishek in Kabhi Alvida Na Kehna, he did share the screen with SRK in some very pivotal scenes. The 2006 film received mixed reactions but Amitabh's stylish avatar did manage to turn heads.
Apart from these major films, the two have also made special appearances in each other's films. While Bachchan had a cameo in SRK's Paheli, the later had a recurring small appearance in Bachchan's Bhoothnath and its sequel, Bhoothnath Returns.
Amitabh Bachchan – Salman Khan
Baghban
Bachchan and Salman did a film in 2003, which probably is the best lesson to be a good son, from Bollywood. They played the most virtuous father-son in Baghban giving enough family goals to the audience. The film was received well by both fans and critics alike.
Baabul
Director Ravi Chopra cast them together again in 2006 for his next film Baabul. This father-son duo was a bit more exuberant this time. They played golf together and cracked jokes. Though Salman's Avi dies in the film, their chemistry had managed to win hearts. Baabul received mixed reviews.
God Tussi Great Ho
They weren't a family in this one, but surely had a Godly bond, literally! The film was adapted from Bruce Almighty and had Bachchan playing the God, while Salman was the male lead. Their scenes together were more about confrontations and challenging each other. The film, however, did not fare well at the box office. Guess these two are better off playing father-son.
Bachchan has also done cameos in other Salman films like Hello Brother and Biwi No. 1. Though we don't remember much of these appearances.
Amitabh Bachchan – Saif Ali Khan
Eklavya
Bachchan and Saif's films have been more about high drama. They first teamed up together in 2007 for Eklavya where Saif played a prince and Bachchan, his royal guard. Though the film couldn't impress much, it was sent as India's official entry to the Oscars that year.
Aarakshan
The duo followed it up in 2011 with Prakash Jha's Aarakshan. Here, Saif played a teacher and Big B, his mentor. The film was a socio-political drama based on the issue of reservation in educational institutions. It was a hard-hitting film with these two actors giving a good performance too.