Om Raut's directorial, Tanaaji- The Unsung Warrior, is one of the most anticipated films of 2019. Based on the life of Subedar Taanaji Malusare, a superintendent in the army of Chhatrapati Shivaji Maharaj, the film features Ajay Devgn in the lead. The makers sure surprised everyone on the first day of 2019, as they unveiled Devgn's first look as Tanaaji and boy, have people been hooked. Needless to say, the fact that the actor will reunite with Saif Ali Khan after a hiatus of 12 years had everyone rooting.
While that is that, turns out there are more reasons to root for and hoot now. According to, Sources none other than Kajol is playing screen-wife to her hubby. In fact, the actress has reportedly, shot a lavish and large-scale song with diyas and rangolis for the period drama. The publication quoted a source saying, "The song was shot over a week in the last week of December and is a part of the climax. It sees Kajol dressed in a traditional Maharashtrian outfit from the 17th century, inside her onscreen home. It has her thinking about her relationship with her warrior husband and a certain situation the couple is faced with at the time. Although Ajay won't feature in the number, there are glimpses of their past moments together. The dance number accentuates her character's emotional state and focuses on her facial expressions."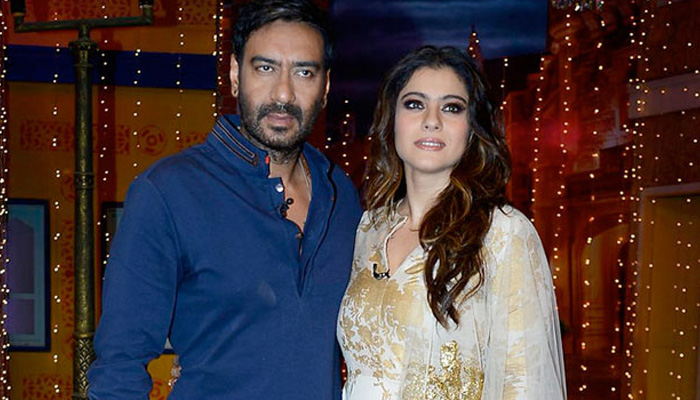 The source also added that Kajol, who is half-Maharashtrian (from her actress-mother Tanuja's side), has been shooting for the film, which required a basic understanding of the language and other traditional elements, without any hiccups and hassles. So, now you know!
Taanaji- The Unsung Warrior is based on the Battle of Sinhagad in 1670, which was fought between Tanaji Malusare, a commander in Chhatrapati Shivaji Maharaj's army, and Udaybhan. Saif will be essaying the role of Rajput warrior Udaybhan Rathod. Earlier, Saif had opened up about his reunion with Ajay and had said, "I respect Ajay and like the way he looks at life. I'm happy to be a part of this huge historical which will be a screen extravaganza, a Baahubali kind of experience in 3D. Kids will love it, so will the rest of the country."